Nizhny Novgorod State Pedagogical University (Kozma Minin)
Kozma Minin Nizhny Novgorod State Pedagogical University is one of the oldest pedagogical universities in Russia, the traditions of which originate from the beginning of the XX century. Today, university is an educational platform for more than ten thousand students from more than half of Russia and nearly 30 countries around the world.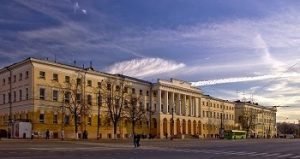 Minin University – is not only pedagogy and psychology.Prepare professionals at six departments in more than 150 educational programs, including both humanitarian and engineering profiles.
Kozma Minin Nizhny Novgorod State Pedagogical University have implemented an advanced student quality rating system, allowing each Minin student to start forming their portfolio – a summary comprising all the achievements obtained during the study – already from the first year. Given the high level of academic training, deep involvement of students in pedagogical and practical training, university allow graduates to come into a great demand in the labor market.
Minin University highly appreciate and encourage students: a developed system of measures on social support of students includes classic and personal scholarships, grants and incentive payments. Studying at Minin University is not only interesting, but also profitable!
Hostels Nizhny Novgorod State Pedagogical University
Minin University has three dormitories to house foreign students: st. Beketov, 6, Gagarin ave., 6, st.. Chelyuskintsev, 17. As a rule, foreign students are placed in the dormitory on Gagarin ave. Students are provided with rooms for 2-3 persons, each floor of the 4-storey hostel has a kitchen, WC and a shower room. To make foreign students' stay more comfortable the option of placing two or three students from the same country is available. The hostel's security checkpoint ensures safety of our students. Entrance to the hostel is strictly on production of one's pass. In corridors of each floor there's constant video surveillance.
Faculties Nizhny Novgorod State Pedagogical University
FACULTY OF HUMANITIES
FACULTY OF DESIGN, FINE ARTS, AND MEDIA TECHNOLOGIES
FACULTY OF NATURAL SCIENCES, MATHEMATICS, ANd COMPUTER SCIENCE
FACULTY OF PSYCHOLOGY AND PEDAGOGY
FACULTY OF MANAGEMENT, SOCIAL AND TECHNICAL SERVICES
FACULTY OF PHYSICAL EDUCATION AND SPORTS
Foreign Language
Russian Language and Literature
Foreign (English) language and foreign (German / French) language
Mathematics and Computer Science
Physical Education
Biology and Chemistry
Economics and Geography
Mathematics and physics
Technology and Economy
Psychology and Pedagogics
Psychology
Special needs education
Design
Producer Training
Fine arts
Service
Economics
Tourism
Geography
Ecology and Nature Management
Applied Informatics
Jurisprudence and law enforcement
Transport Process Technologies
Management
Application Form For Nizhny Novgorod State Pedagogical University