Nizhny Novgorod State Medical University
Nizhny Novgorod State Medical University is one of the medical schools in the Russian Federation which is located in the city of Nizhny Novgorod.
Besides Russian students, there are also students from foreign countries such as Morocco, Malaysia, India, Turkey, SriLanka, Maldives, Mauritius, Kenya, Tanzania, Jordan, Pakistan, Namibia and many others who study in this academy. Some of the foreign students study medicine completely in English medium, and some others study in Russian language. The current Dean of the Foreign Students Department is Professor Elena Ivanovna Yerlikina, D.Sc., who is also the Head of the Department for Biochemistry.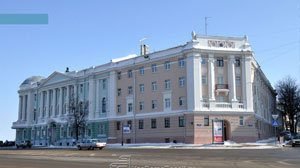 However, students who study in English medium also have to study Russian language to be able to communicate with local Russian people who have very little knowledge of English, and thus being able to communicate with patients for basic clinical training.
Most students have to undergo one year of preliminary course for one year, before continuing their undergraduate studies. General Medicine program lasts after 6 years.
The first academic year of the General Medicine course begins with the teaching of fundamental medical sciences such as medical biology, Biophysics, general chemistry and Organic Chemistry, History of Medicine, Human Anatomy, and so on. Because of the aforementioned, the course runs in a longer duration (a 6-year programme) as compared to General Medicine courses (5-year programmes) offered by other universities in other countries.
Clinical education starts officially on the third academic year with the so-called "cycles". Every few weeks, students are rotated and exposed to different parts of clinical medicine such as Internal Medicine, General Surgery, Infectious Diseases, Pediatrics, Obstetrics, Gynecology, Neurology, Orthopedics, Radiology, Public Health and so on. Classes are then conducted in different specialised hospitals within the Nizhny Novgorod region.
Upon graduation, the graduates are awarded a first professional degree which is the doctor of medicine or M.D. which is an M.B.B.S. equivalent because the graduates have been trained in the field of general surgery. Students who have achieved very well academically are awarded with a red degree or a first class honor equivalent.
Hostels Nizhny Novgorod State Medical University
Each hostel is equipped with a canteen and cafe with provisions of kitchen and dining hall on each floor. The academy provides a springboard for sportsmen with sporting facilities such as sports complex, including gymnasium, indoor football, badminton, tennis, volleyball, athletic stadiums, etc.Different social and cultural events are organized for foreign students. The Faculty's staff encourages academic, national and other interests of students. National and International associations of students are being organized to unite students from different countries

Faculties, Specialties, Duration
General Medicine (6 years)
Dentistry  (5 years)
Pharmacy (5 years)
Faculty of Medicine
Faculty of Pediatrics
Faculty of Pharmacy
Faculty of Medico-prophylaxis (Preventive medicine)
Faculty of Stomatology (Dentistry)
Faculty of Higher Nursing Education
Faculty of Preparatory courses (Pre-medical courses)
 Application Form Nizhny Novgorod State Medical University